Eagle nation got somewhat of a Hanukkah miracle Wednesday morning when ex-New Mexico Lobos offensive coordinator Bob DeBesse was named to the same position on the Georgia Southern staff. This announcement comes on the heels of hiring Scot Sloan as Defensive Coordinator and Matt Greenhalgh as Strength & Conditioning Coach earlier in the week; both came from Appalachian State.
Despite the speculation that Tulane OL coach Alex Atkins and Southeastern Louisiana offensive coordinator Matt Barrett was coming to the 'Boro to take the OC job, Lunsford chose to go with a guy more experienced than Barrett and Atkins combined. A veteran. A steady hand at the wheel.
Sloan and Greenhalgh were poached from App State's staff. From Georgia Southern fan's perspective, there is no other staff you'd rather steal from than your biggest rival. That's even more true when one of the dudes was Recruiting Coordinator (Sloan) for the Mountaineers and knows Georgia like the back of his hand. Greenhalgh looks like Thor's body double, which can't be a bad thing for Eagle Iron Works.
Georgia Southern offensive coordinator is in many ways more important than the head coach (to the fans at least). The offensive coordinator is supposed to be the keeper of the triple option flame (I told you we take this seriously).
Needless to say, Georgia Southern Twitter was doing proverbial backflips when the news broke. This is a vast improvement over the collection of high school coaches and random vagrants that Tyson Summers used to fill his coaching staff.
https://twitter.com/BarstoolBoro/status/941017130815893505
For all intents and purposes, the search to fill out Chad Lunsford's staff is over. Only the QB Coach position remains unfilled. Maybe DeBesse brings in a guy he trusts, or WR Coach Juston Wood will slide over. Whatever the case may be, we'll find out in the coming days.
What does this mean for Georgia Southern in 2018 and beyond? Is Georgia Southern officially back? Let's take a look at the tape and numbers.
Who is Bob DeBesse?
DeBesse was fired by UNM head coach Bob Davie after the Lobos finished their season 3-9. After a couple of winning seasons in 2015-2016 where the Lobos went bowling, they regressed this past season and were terrible on both sides of the ball.
DeBesse's firing had more to do with Bob Davie's job security than anything. It was not that long ago that DeBesse was thought of as some sort of genius for helping turn a basketball school like New Mexico, into a Mountain West contender.
Looking further back you will see that DeBesse's offenses ranked top five in rushing offense from 2012-2016. They finished the 2016 season 9-4 after beating UTSA in the New Mexico Bowl.
Georgia Southern fans will also take solace in the fact that Bob DeBesse has Willie Fritz connections. From 2010-11, he was the offensive coordinator for Sam Houston State while Fritz was the head coach. in 2011, the Bearkats went 14-1 and finished runners-up for the FCS championship.
His scheme is similar to what the Eagles ran under Fritz. Triple option out of a shotgun or pistol base. I'm a visual learner, so I figure its best if I give you some triple option porn to look at. (please keep your pants on)
There are tons more videos on YouTube you can find if you want to learn more about DeBesse's offense. But the gist of it is that Eagles fans are going to recognize what DeBesse runs, save a few wrinkles. It's the same offense that Fritz ran, the same one that Lunsford ran, and the same one that Summers tried to run and failed miserably. One of the interesting wrinkles to DeBesse's scheme is the triple-I/human centipede formation: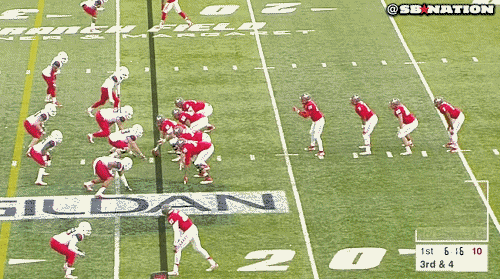 Georgia Southern's offense is in good hands. With better talent, including starting QB Shai Werts, I am eager to see what DeBesse can come up with. He was simply the best triple option mind available, and Eagle nation is fortunate to have him.
What about the defense?
Who is Scot Sloan?
Well he's the Goldberg on this elbow-droppin', pile drivin', throat stompin' coaching staff. It's an analogy his own significant other seemed to enjoy on Twitter.
Nate Woody has been the primary play-caller at App State for the past five years. Scot Sloan was promoted to co-defensive coordinator in the spring of 2017. App State finished 34th in the country in points allowed per game. Also, he has spent the past eight seasons as App State's secondary coach (one of the best secondaries in the country during that stretch) and recruiting coordinator since 2012, with Georgia being his recruiting ground.
App State runs a 3-4 defensive scheme with much success. Expect Georgia Southern to switch away from their current 4-3 system. With the advent of spread offenses in college football and their particular prevalence in the Sun Belt, putting more speedy linebackers on the field makes sense. Interestingly enough Georgia Southern sort of has the personnel to run it.
DE: Hunt, Griffin
NT: Phillips, Bush
DE: Vliem, J. Johnson
OLB: R. Johnson, Wade
ILB: Reese, Harris, Byrd
ILB: Bradley, Wade, Allen
OLB: Cooper, Byrd, Murray
NB/R: Murray, Josue, Ecton
CB: Brinson, Liptrot
FS: Moon, Murray
SS: Bowdry, Freeman
CB: Vildor, Baker
Georgia Southern was one of the youngest teams in the country, so they bring just about everybody back. Logan Hunt, Ty Phillips, and Traver Vliem have enough size and strength to be 3-4 down linemen. Hunt, in particular, played inside much of the 2017 season, which prepared him for this role. Hunt, Phillips, and Vliem will be expected to suck up blockers and create gaps for the speedy linebackers to do their thing.
The secondary, especially the talented corners Brinson and Vildor, will benefit significantly from a secondary-minded coach in Sloan, and an improved pass rush.
The guy to watch out for in that front-7 is Raymond Johnson III. He was an all-Sun Belt honorable mention his freshman year in '17. The long, tenacious pass rusher could create absolute havoc screaming off the edge in this scheme.
Who is Matt Greenhalgh?
I dug up this video where Matt Greenhalgh explains his philosophy as a Strength & Conditioning coach. It is perhaps the most underrated position in football. You can draw a direct correlation between success in the weight room and success on the field.
Under Tom Melton during the Monken era, I would walk past the Iron Works to get to class almost every day, and every day I would see guys like Brent "ManBearPig" Russell and Roderick Tinsley out there flipping massive tractor tires or some other strength training activity.
The work paid off. The Monken era results speak for themselves. Eagles fans want to get back to that ASAP.
Look at this guy. He looks like he's the sort of dude that will steal your girlfriend and knock over your sandcastle, for an S&C coach, that's a good thing. He looks like he spars with Dwayne Johnson for fun. Eats a bucket of nails for breakfast. I'm struggling to come up with a good wrestling analogy for Greenhalgh (maybe HHH with a buzz cut and a beard?).
Send me your suggestions through Twitter. Georgia Southern might of just crawled its way out of the hole it dug itself.
Looking Ahead
Eagle fans could not have asked for a better quartet of coaches than Vic Cabral, Scot Sloan, Bob DeBesse, and Matt Greenhalgh. Chad Lunsford's extensive connections in the coaching world from his many stops during his career worked wonders. He merely knew how to put together a staff better than Summers did, that much is clear.
What is also clear is that Chad Lunsford has vision. He knows where he wants to take this program and will stop at nothing to achieve that objective. Lunsford did what he had to do to get critics off his back; now it's time for those same critics to reward him with their faith. After two years of negativity, it is time to turn the page and get back to what Georgia Southern does best.
Getting After That Ass.