Famous Idaho Potato Bowl Preview
Date and Time: Friday, December 22, 2017 2 PM MT
Location: Albertsons Stadium, Boise, Idaho
TV: Worldwide Leader of Sports
Odds: Wyoming -3, O/U – 45
Okay, what's so important about this bowl game?
Well, outside of the fact that this is the geographically the most northern-based bowl game, it's one that never ceases to entertain each year.  For instance, last year was a 61-50 thriller that Idaho pulled out over Colorado State.  This year, in the 21st edition (yay, we can use some of the potatoes for vodka), this Chips team has a chance to win nine games for the first time since Butch Jones went 12-2 and left for…greener pastures at Tennessee.  In the meantime, Wyoming's primo potential NFL pick Josh Allen will be starting this game after an injured shoulder left him on the sidelines for the last two games of the season (much to Mel Kiper, Jr.'s delight).
Since this bowl game is in Boise in December, weather forecasts predict a chance of snow, because as everyone remembers from Army-Navy, snow football is the best football.  The other fun fact to remember is that no team has to worry about "blue-on-blue" advantage, however whoever is the away team might want to think about Stormtrooper uniforms.
Is there a trophy involved?
Yes.  It is a glass bowl of potatoes. LOOK AT IT IN ALL IT'S GLORY.
It doesn't get more exciting than that, Troy!
Truthfully though, the bowl game is played in Idaho.  It's primary sponsor is Famous Idaho Potatoes, and other sponsors include truckstop.com and the Boise Convention and Visitors Bureau.  How much more f****** Idaho can this game get?
Is there a mascot for this game?
INTRODUCING SPUDDY BUDDY, OUR SUPREMELY STYLED MASCOT.
YOU WILL BOW TO SPUDDY BUDDY.  HIS SANTA TOP IS A BIT TUBEROUS FOR YOU? DEAL WITH IT.  SPUDDY BUDDY IS NOT YOUR FRIEND, HE IS YOUR OVERLORD AND YOU WILL WIGGLE WITH HIM.
WATCH AS HE MAKES MERE MORTALS DO HIS BIDDING.  WHO CAN ESCAPE FROM THE WRATH OF SPUDDY BUDDY?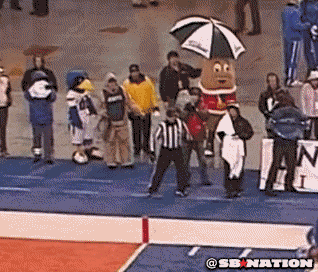 Impress me: what will this game come down to? Make a prediction.
Don't expect Josh Allen to be overly fantastic in this game.  Shane Morris for CMU has come in looking like the better quarterback all season, and he will be controlling the Chippewas offense.  Instead, look to see how the Wyoming defense will play.  The Pokes defense has been nothing short of fantastic this year, often keeping Wyoming in a game for much longer than perceived.  Andrew Wingard and Rico Gafford each have 4 INTs and Marcus Epps has three.  Look for them to take down Morris (who has 13 INTs to his 26 TDs) and keep Wyoming in striking range for a victory. Wyoming 21, CMU 20