It was my first time visiting Birmingham, and boy did I get treated to a good game. Quinton Flowers garnered back-to-back Birmingham Bowl MVP honors as he produced yet another clutch 4th quarter performance for USF. Flowers connected with Tyre McCants for a 15 yard TD strike with :17 left in the game. Flowers threw for 311 yards on 17-34 passes and added another 109 yards on the ground, he had 5 total TDs on the day, he tied his own record which he set last year.
USF Quarterback Quinton Flowers
On his mindset to keep battling back…
"On the sideline before our series started, coach King and I talked and he told me I had to stay
locked in and that's what I did out there and as the plays were coming in I'd just know what was
going to happen before it happened. I was telling myself I have to hit my guys in the chest and
just give them a chance. I went out there and my coach called a play that I wanted and Tyre
(McCants) did what he was supposed to do and I did what I was supposed to do and we came
out with the victory."
The 21 points scored by USF in the 4th quarter set a new Birmingham Bowl record, this was the 12th edition. USF is now 3-0 in the Iron City. The 72 points scored is 2nd only to last year's USF-South Carolina game that went into OT, and the 1,110 total yards set a new record.
I admittedly regret my choice for MVP: Keke Coutee. I had to submit my choice half-way through the 4th quarter before Flowers went ham. USF had a rough first three quarters, especially the start of the 3rd. They had two fumbles and two turnovers on downs in the 3rd. The Texas Tech WR Coutee finished the game with 187 yards on 11 receptions and 249 all-purpose yards. Tech QB Nic Shimonek threw for over 400 yards and 3 TDs.
The game was a slow burn. Dare I say it was boring in the first half. But it got more exciting as the game went on. Ended up being a classic. The game organizers have done a good job putting these matchups together.
Overall, I enjoyed my stay in the Big Hammer. They have a lovely downtown, plenty of history, and good restaurants. Birmingham has a burgeoning music scene and vibrant nightlife. Hipsters have completely taken over sections of the city. The food was top-notch. Eugene's Hot Chicken downtown is a must-stop.
The only drawback I see about this bowl game is the stadium itself. (Little known fact: Legion Field is the only structure in North America to survive the last Ice Age 10,000 years ago) Birmingham is college football's #1 TV market year in and year out.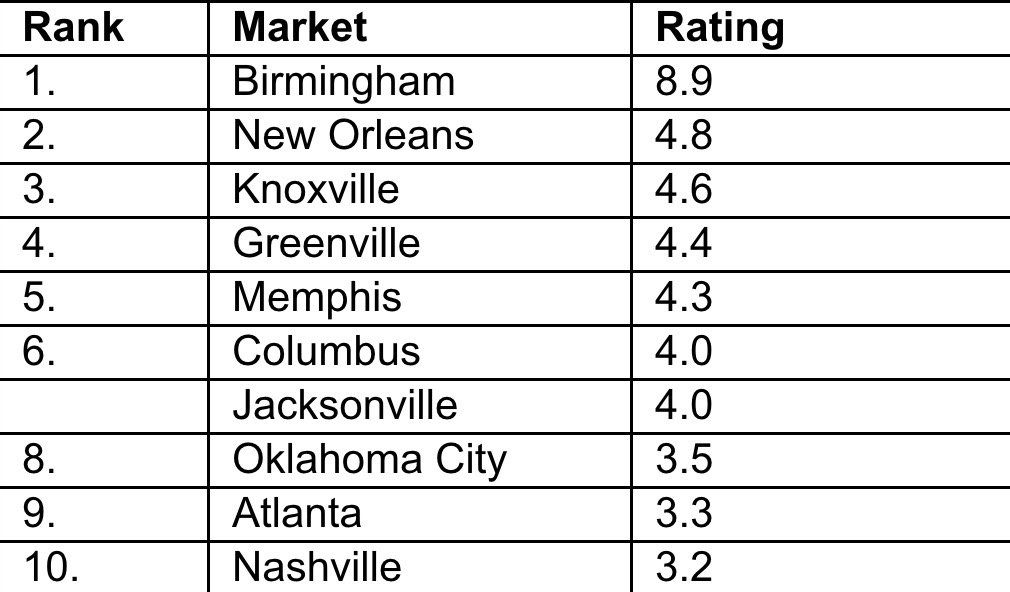 I don't have to tell you that college football matters in Alabama, you already knew that. It's time the city built a stadium worthy of the city it resides in. They figure that out and this ain't a bad bowl if you don't mind the late-December northern Alabama weather.