The first weekend in February is crunch time in the college football world. It's the last weekend before National Signing Day. It's the last chance programs get to host recruits on campus ahead of the big day. Maybe the February signing period has lost its luster. While this might be the case for the big programs of the P5, for G5 programs like Georgia Southern, the February Signing Day remains very important.
Don't take my word for it. Georgia Southern is throwing a party on Wednesday to celebrate it. Of course Georgia Southern is throwing a party. Southern has tried hard to shed its party school reputation, but that doesn't mean they don't know how to get down from time to time. I always considered National Signing Day to be somewhat of a regional holiday in the South and parts of the Midwest. I'm not the only one.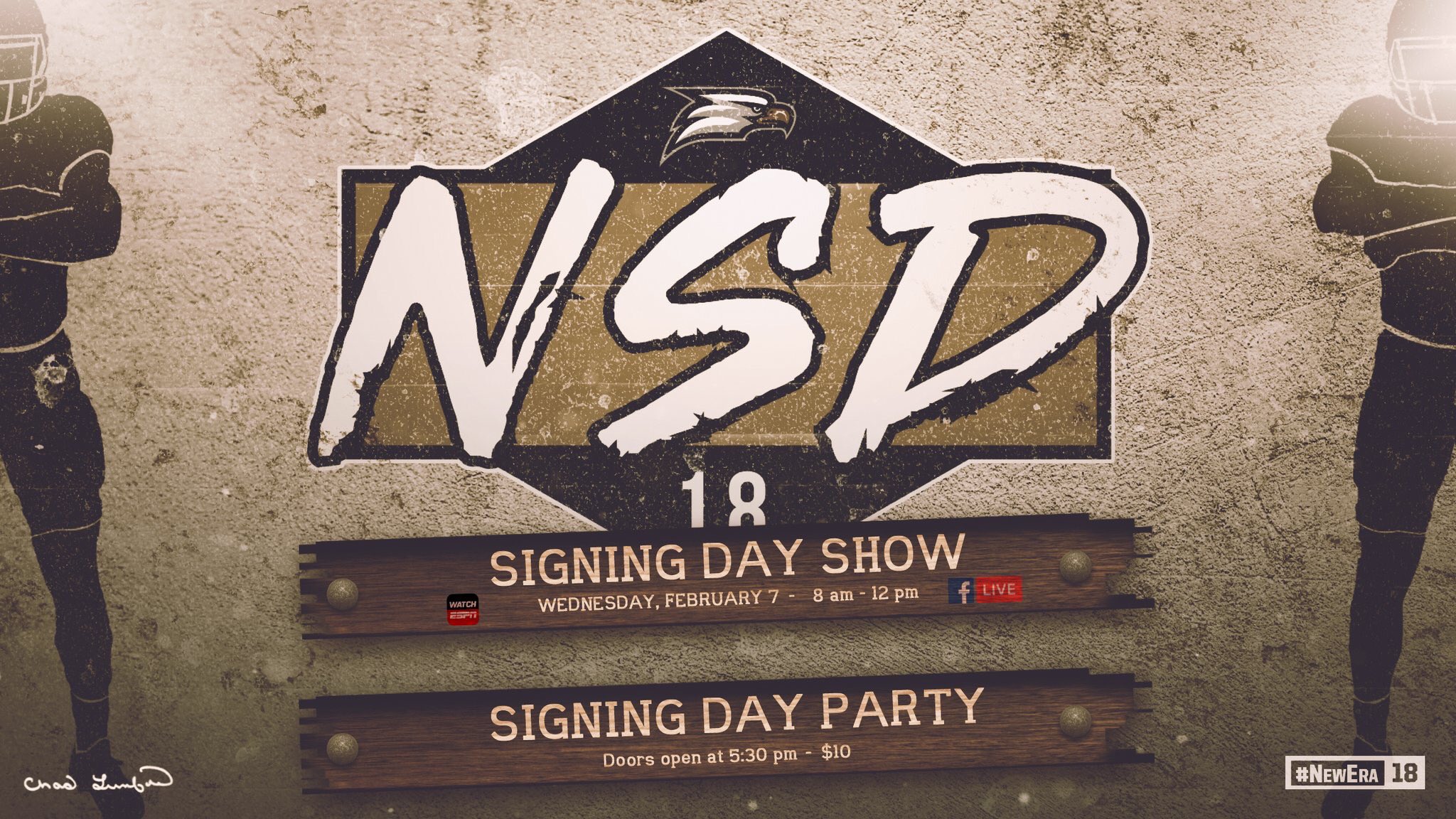 Hat tip to the graphics department for Georgia Southern athletics, profiled recently by WJCL.
Finally there is a reason for Eagle football fans to celebrate. Since the early signing period closed on December 22nd, the Georgia Southern coaching staff has been very active. The hard work has paid off in the form of several commitments over the past few weeks.
Commits in January:
Khalil Crowder – T/G – 6'2″ 280, profile: https://247sports.com/player/khalil-crowder-46052156
Committed early in January. Undersized tackle, could transition to interior lineman.
Jaden Moreland – WR – 5'10" 168, profile: https://247sports.com/player/jaden-moreland-46038008
Speedy 2-star out of Heard County. Could play in the slot, line up in the backfield, or return kicks.
Brandon Cross – CB – 5'10" 184, profile: https://247sports.com/player/brandon-cross-89581
Decommitted from Tennessee and committed to Georgia Southern after his visit to Statesboro. Headliner of the January group.
Davarius Bargnare – WR – 5'11" 165, profile: https://247sports.com/player/davarius-bargnare-92303
Part of the group of guys that committed after the highly lucrative January 19-21 weekend for the GS staff. Bargnare is a speedy WR out of Orlando, rated 83 on 247.
Aaron Dowdell – OG – 6'4.5″ 310, profile: https://247sports.com/player/aaron-dowdell-44691
A Georgia Military College transfer, GMC is a JC that Southern has used quite often in the past. Dowdell and December signee Jawaski Webb provide immediate depth to the interior of the Eagles OL.
Christian "Scoobie" Ford – WR – 5'10" 170, profile: https://247sports.com/player/christian-ford-46035408
Highest rated offensive player in the class committed Monday night. The Marietta HS product had several P5 offers including Virginia Tech and West Virginia.
Parker Devine – DE – 6'4″ 250, profile: https://247sports.com/player/parker-devine-94094
Weakside DE out of Jacksonville had interest from over 60 schools across FBS including Notre Dame, Michigan State, and Mississippi State. Highly sought after kid has strength, power, and quickness; fits the mold for a 3-4 DE in the Sloan scheme.
Payton Dunagan – LS – 6'1″ 240, profile: http://www2.hudl.com/profile/1589521/Payton-Dunagan
Long snapper out of West Forsyth.
What jumps out at me is the volume of sub 6-foot, fast, wide receivers the Eagles have been hauling in. Different than the taller, thicker receivers that Georgia Southern has traditionally gone after because of their blocking abilities (like Marcus Rogers). These are guys that can stretch the field like the late Teddy Craft or Raja Andrews did, barring unforeseen position changes. Stretching the field with the play-action pass is a critical component of the triple option offense.
Giving this offense more speedy weapons on the outside is never a bad thing. The shotgun/piston option that Bob DeBesse runs needs receivers to spread the field. But don't be surprised if the Eagles find creative ways to get the ball to these dudes. DeBesse is no stranger to odd formations and trick plays.
What's Next?
Chad Lunsford added another position to the coaching staff in the form of Director of High School Relations and filled the spot with Eagle Great T.J. Anderson. Anderson played slotback for Georgia Southern from 2000-2004, Lunsford was his position coach from '03-04. As a result, he remained close to Lunsford and Cabral.
Anderson is a South Gwinnett grad and was most recently an assistant coach at the Westminster Schools in Atlanta. Georgia Southern has the broadest collection of high school coaches in GHSA, an invaluable resource when it comes to recruiting. He is another hand on-deck for Georgia Southern recruiting with high school connections in the state. Furthermore, he's cut from the same mold as Lunsford, Sloan, and Cabral; which is high-energy; an outstanding quality to have when talking to young adults.
Who are Georgia Southern's targets heading into the weekend?
Andrew Cunningham – RB – 6'0.5″ 215 – profile: https://247sports.com/player/andrew-cunningham-83247
Highly-rated recruit out of Tampa. Several offers across the P5. He had ACL surgery at the end of his senior season. Only confirmed visit for the weekend in Statesboro. Big deal. Physical runner as you can see above.
Torry Locklin – QB – 6'2″ 190 – profile: https://247sports.com/Player/Torry-Locklin-46038143
This QB has the potential to be a game-changer for Georgia Southern. He won the State Championship for Rockdale HS in Texas and threw for 2,400 yards and 27 TDs in the process. His size and dual-threat ability make him perfect for DeBesse's offense. New Mexico State and Kansas are his only other suitors, diamond in the rough.
Justin Birdsong – CB – 5'11" 175 – profile: https://247sports.com/Player/Justin-Birdsong-46040048
Stephenson HS product has narrowed down his list of schools to: Iowa State, Duke, App State, and Georgia Southern. Visited campus on that successful Jan 19-21 weekend. His Twitter has been been pro-Eagles recently.
Ja'Quon Griffin – DL – 6'0″ 265 – profile: https://247sports.com/Player/Jaquon-Griffin-90985
Rates as an 85 on the 247 Sports composite. Defensive lineman from Rome is being pursued by LSU, Georgia State, and Georgia Southern, among others.
Nykae Mack – ATH – 5'10 168 – profile: https://www.hudl.com/profile/7944689/NyKae-Mack
Played both Safety and Wide Receiver for Islands High School. Fast acceleration, plays without fear.
Nick Croawell – DE – 6'4″ 235 – profile: https://247sports.com/player/nick-croawell-46039134
Played at Centennial High School, smart kid. 3-star WDE is down to Georgia Southern, Army, and Chattanooga.
Reggie James – ATH – 6'3″ 240 – profile: https://247sports.com/player/reggie-james-46049293
3-star from Chestatee HS in Gainesville, GA. Has PWO offers from Miami and Auburn. Visited Statesboro on January 12th. Can play OLB or TE.
I will keep you updated on Twitter if there are more invites this weekend other than Cunningham. Don't expect the world with only five days until Signing Day. A class of 16-20 quality guys that is 3-star heavy would be remarkable considering Georgia Southern has won 7 games in two years. Maybe a couple more guys will hop on board the yellow bus before Wednesday.
As a result of Lunsford and Company's work 247 Sports has Georgia Southern 5th in the Sun Belt and 99th overall in the country as of today. Top half of the conference for a 2-win team going through a coaching change is more than enough, but it is possible that Eagle Nation could end up with more on Wednesday morning. Most of all, fresh energy has been pumped into this program and Eagles fans are excited about next season. It feels like optimism has returned for the first time since the 2015 GoDaddy Bowl.