The Sun Belt Conference is a baseball conference above all else. This isn't mean to short-change what the Sun Belt has accomplished on the gridiron, or on the hardwood, or even on the pitch; it is just a statement of fact. Regarding competitiveness on a national level, like actually competing for real-live national championships, there isn't a sport that the SBC is better at than baseball. This was true even before they added the 2016 National Champs, Coastal Carolina, to the conference. Now it has become an absolute meat-grinder.
Let's summarize it for the newbies:
South Alabama: 27 NCAA tournament appearances since 1972, 16 conference championships, produced MLBers like Marlon Anderson, Juan Pierre, Luis Gonzalez, Jon Lieber, Adam Lind, and Mike Mordecai, among several others.
Louisiana-Lafayette: 3rd place finish in the 2000 College World Series, 16 NCAA Tournament appearances since 1988, hosted their own regionals in 2014 and 2016, 97 players drafted in the MLB draft including Xavier Hernandez, Rob Guidry, Paul Bako, and Jonathan Lucroy. 7th in attendance per game in '17.
Coastal Carolina: 2016 National champs, three-time regional champs, 14 NCAA tournament appearances since 1991, 16 conference championships, produced 11 players on active MLB rosters since 1991 including three currently: Taylor Motter, Tommy LaStella, and Jacob May. 37th in attendance per game in '17.
Georgia Southern: Two appearances in the CWS in 1973 and 1990, 13 NCAA appearances, 1962 NAIA national champs, 12 conference championships, produced MLBers like Todd Greene, Joey Hamilton, and Everett Teaford. Top 50 in attendance regularly.
Troy: Six NCAA tournament appearances and conference championships since 1995, top 50 in attendance several years running. Produced 38 All-Americans, 56 players drafted in the MLB Draft. Major Leaguers like: Clint Robinson, Chase Whitley, Fred "Scrap Iron" Hatfield, Danny Cox, Mike Perez, and Mackey Sasser.
That isn't even everybody. Texas State and UT-Arlington are real programs with talent all over the place; I fully expect both to be in the conference title discussion all season. Even Arkansas State, Little Rock, and Georgia State are tough outs. There aren't a whole lot of "easy" series in the Belt. This is a conference full of public schools in the South; baseball kinda comes naturally.
So why then, does the Sun Belt struggle to get more than two teams in the tournament every year? College baseball is not college football, where the gulf between the haves and the have-nots is a matter of tens of millions of dollars. There really shouldn't be a distinction between P5 and G5 in college baseball. Schools like Coastal Carolina, Fresno State, Cal State Fullerton, and Rice have been able to win the College World Series since the year 2000.
The Sun Belt is a better baseball conference than the Big Ten, and I don't think that's a particularly controversial opinion. The talent is better in the South, and the weather is warmer, snow and baseball don't mix particularly well. The warmer the weather, the more time there is to practice. Any nitwit with half-a-brain can figure out that Mobile, Lafayette, and Conway are better places to assemble a baseball team than Columbus, Ann Arbor, or Happy Valley. Yet, the Sun Belt and CUSA still have to fight against old prejudices like 2016 never happened.
The Fun Belt deserves four-bids every year at least, forget three. Two is just an insult to everyone's intelligence. The Sun Belt in baseball is the equivalent of the Big East in college basketball. You don't think of the Big East as a power conference anymore, but they have teams completely capable of winning it all year-in, year-out (Villanova, Xavier, Creighton, Butler). Any member of the top half of the Sun Belt could easily catch fire in May and June and do what Coastal Carolina did two years ago.
So which team could do that this year?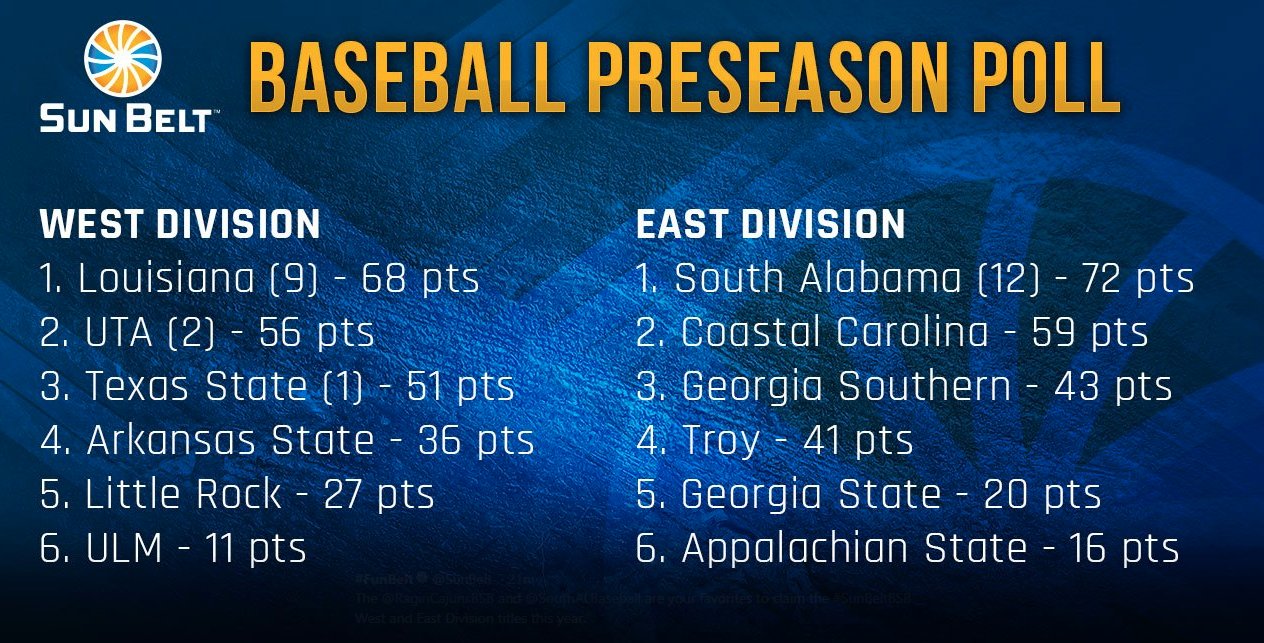 The Contenders: Louisiana-Lafayette and South Alabama,
Voted to win their respective divisions. The Cajuns are led by LHP Hogan Harris who takes over the position of staff ace after Gunner Leger had to have Tommy John surgery. Harris is rated the #122 prospect in baseball according to Baseball America. Relief pitcher Dylan Moore was voted preseason All-Conference. #24 South Alabama is led by Travis Swaggerty, the #2 prospect on USA Baseball's Collegiate National Team. He is a five-tool player and who hit .356/.484/.571 as a sophomore with 11 HRs and 19 stolen bases. He's a potential national player of the year.
The Hunters: Texas State, UT-Arlington, Coastal Carolina, Georgia Southern, Troy
Texas State landed three players on the preseason all-conference team: 2B Jonathan Ortega, 3B Jaylen Hubbard, and UT Dylan Paul. UTA won the West Division last year  and is led by RHP Trae Patterson with junior college transfer Ka'ikepono Anderson and Texas Christian transfer Drew Gooch behind him in the rotation. Coastal Carolina is poised for a bounce back year after missing the regionals in 2017. They have a powerful lineup with 1B Kevin Woodall (.262/.373/.557, 18 HR) as the anchor and a rotation headed by flame-throwing RHP Jason Bilous. Georgia Southern is led by a strong rotation as always. Seth Shuman was the Eagles lone selection to the preseason all-conference team, but his fellow weekend starters Billy Eichhorn and Chase Cohen played in the Cape Cod League last summer and have impressive stuff. Troy is led by OF Brendon Lockridge and preseason pitcher of the year Andrew Crane.
The Spoilers: Little Rock, Georgia State, Arkansas State
Little Rock is the best of the bunch. The only team in this group with potential to be a hunter. The Trojans have a good rotation led by a pair of power LHPs in Chandler Fidel and  Cole Townsend with 6-foot-5 righthander McKinley Moore rounding out the weekend. JuCo transfer OF Marcus Ragan was drafted in the 15th round by the Red Sox last year.
The Dumpster Fires: App State and ULM
Someone has to lose games in this conference.
2018 Preseason All-Sun Belt Conference Baseball Team
C – Will Olson (UTA, Junior)
1B – Wells Davis (South Alabama, Junior)
2B – Jonathan Ortega (Texas State, Junior)
SS – Drew LaBounty (South Alabama, Senior)
3B – Jaylen Hubbard (Texas State, Junior)
OF – Brendan Donovan (South Alabama, Junior)
OF – Brandon Lockridge (Troy, Junior)
OF – Travis Swaggerty (South Alabama)
DH – Omar Salinas (UTA, Senior)
UT – Dylan Paul (Texas State, Senior)
SP – Andrew Crane (Troy, Senior)
SP – Trae Patterson (UTA, Senior)
SP – Seth Shuman (Georgia Southern, Sophomore)
RP – Dylan Moore (Louisiana, Senior)
2018 Preseason Player of the Year
Travis Swaggerty (South Alabama, Junior, Outfielder)
2018 Preseason Pitcher of the Year
Andrew Crane (Troy, Senior, Starting Pitcher)
Predictions: I'm a madman. I know it won't happen. Go ahead and tell me I am an idiot. Won't be the first time, certainly won't be the last. But I am going to predict that four teams make the tournament out of the Sun Belt this year. Yes, four, and I'm wiling to die on this hill. South Alabama will host a regional as well. Travis Swaggerty is just that good. The Jaguars, along with the Ragin' Cajuns, Chanticleers, and Mavericks are my picks to make the tournament. USA is my pick to win the conference. With GOOD teams like Georgia Southern, Texas State, Troy, and heck even Little Rock sitting just on the outside looking in.
My plan is to catch Georgia Southern's opening series in Athens vs. Georgia this weekend. A series I full expect my Eagles to take, because they've done it several times in the past. The Sun Belt is good at baseball. It is time to stand up for it. Perception needs to change and that starts with the fans who watch and love it, standing up and defending it.
Welcome back, baseball.