Blue vs. White
1:00 PM
Paulson Stadium, Statesboro, GA
Spring practice is winding down at Georgia Southern. The Eagles held their 2nd scrimmage Friday night, there are only three more practices before the Blue/White game on April 14. Here are recaps from scrimmage 1 and scrimmage 2.
Mon., April 9 – 4:25-6:25 PM
Wed., April 11 – 4:25-6:25 PM
Fri., April 13 – 4:20-6:20 PM (Paulson)
Sat., April 14 – 1 p.m. (Paulson) SPRING GAME
There are a lot of storylines surrounding spring practice this year. Let's review:
Chad Lunsford's first spring practice as a head coach.
Almost completely new coaching staff.
A new 3-4 defense.
A shift to Bob DeBesse's option offense.
That's all on top of the normal stuff that makes spring practice worthwhile to the average college football junkie: position changes, weight fluctuations, redshirt freshmen, and early enrollees, etc. So far Lunsford's "open door philosophy" with regards to fan and media relations has been a breath of fresh air. I've been through seven different coaching changes since I was a freshman in 2004, and I have to say, this one has been the most fun.
Exhibit A is the "Mic'ed up" series that Georgia Southern football has produced this spring. They choose a player and a coach to mic up for each practice. This gives Eagle Nation more access to the inner workings of spring practice like never before. Here is the latest episode in #GATALifestyle's mic'ed up series with QB coach Justin Wood and Shai Werts:
It's the season of new life and it feels like new life has been injected back into the Eagles' bloodstream for the time being. Will it translate to wins in the Fall? Who knows? Chad Lunsford has done a great job selling himself to the fanbase so far. He has put his unique imprint on the proud program. Hopefully it translates to success on the field.
Spring practice is the first step on the path towards success for any football team. Fortunately Georgia Southern returns back virtually everybody from last year's team. Only big losses were LA Ramsby, Myles Campbell, Darrius Sapp, and Matt Flynn. Redshirt freshmen like Grant Walker, Jaalon Frazier, Matt LaRoche, and Demetrice Lofton are expected to step up into big roles next season. There's a good foundation of talent, even before the best recruiting class in the conference (I love saying that) arrives on campus this fall.
Here is a ridiculous and irresponsible guess at the depth chart for the Blue/White game (give the people what they want):
QB: Shai Werts, Jaalon Frazier, LaBaron Anthony, Kado Brown
RB1: Wes Fields, Grant Walker, Eric Montgomery
RB2: Monteo Garrett, Matt LaRoche, Logan Wright
WR: Malik Henry, Darion Anderson, D'Ondre Glenn
WR: Obe Fortune, Dexter Carter, Mark Michaud
SB: JW Kennedy, George Johnson, Malik Murray
TE: Ellis Richardson, DJ Butler, Cam Brown
LT: Lawrence Edwards, Jarrod Leeds
LG: Ryan Northrup, Jakob Cooper, Alex Smith
C: Curtis Rainey, Caleb Kelly, Parker Williams
RG: Jeremiah Culbreth, Jawaski Webb, Tristan Hill
RT: Drew Wilson, Jake Edwards
DE: Logan Hunt, Ian Bush, Quan Griffin
NG: Ty Phillips, Zack Copeland
DE: Deshon Cooper, Traver Vliem, JB Kouassi
OLB: Raymond Johnson Jr., Demetrice Lofton, Randy Wade
ILB: Tomarcio Reese, Lane Ecton, Benz Josue
ILB: Todd Bradley, Chris Harris
OLB: Rashad Byrd, Alvin Ward
CB: Monquavion Brinson, Jaden Garrett, Bryce Cross
SS: RJ Murray, Sean Freeman
FS: Joshua Moon, Jay Bowdry
CB: Kindle Vildor, Christian Matthew
NB: Darrell Baker, Jessie Liptrot
P: August Bowers, Magill Bauerle
K: Tyler Bass, Luis Martinez
PR: JW Kennedy, Dexter Carter
KR: JW Kennedy, Monteo Garrett
LS: Ryan Langan, Logan Cox
Position-by-position breakdown:
QB
Shai Werts finished his freshman year with 929 passing yards, a school record for frosh QBs, besting Tracy Ham's 886 yards in 1983. It was a hard year, but the concensus is that Werts is a special talent who was dealt a raw deal. With a more coherent offensive system and a year of experience under his belt, maybe he can be the next in the line of great option QBs at Georgia Southern.
There is no doubt Werts has a strong arm and is as elusive as they come in the open field but doubts remain about his pitching decisions and his poise under pressure. But the coaching staff remains committed to him. Behind him is an intriguing redshirt freshman Jaalon Frazier (6'2 200) out of Liberty County and a pair of seniors Kado Brown and LaBaron Anthony. Frazier is the only real threat to Werts's job this spring but will probably end up as the backup. Justin Tomlin out of SW Dekalb will arrive in the fall.
RB
Wesley Fields and Monteo Garrett are the two starting RBs, they are locks. The Eagles success on offense next year rides on their shoulders. RS FR Grant Walker, RS FR Matt "Speedy" LaRoche, RS FR Logan Wright, and JR Eric Montgomery are expected to be the primary backups behind Fields and Garrett. Walker is a physical runner while LaRoche is named "Speedy" for a reason. Jared Daniels is a walk-on worthy of keeping an eye on.
WR/SB/TE
Georgia Southern has a good core of six receivers that will get over 90% of the snaps next season barring injuries: Malik Henry, Obe Fortune, Darion Anderson, Dexter Carter, Mark Michaud, and D'Ondre Glenn. They're all good. It's very difficult for me to tell you who's the best of the group. Most of the receivers that signed on Signing Day will be redshirted or shifted to slotback.
Speaking of the slot, John Wesley Kennedy, George Johnson, and Malik Murray form a tight rotation there. Wouldn't be surprised to a true freshman like Scoobie Ford or Darvarius Bargnare could break that rotation in the fall. Ellis Richardson has followed up a strong finish to last season with a solid spring and has a stranglehold on the starting tight end spot. A pair of redshirt freshmen in DJ Butler and Cam Brown are the only two other TEs on the roster.
OL
Four starters return: Northrup, Rainey, Culbreth, and Wilson. Jake and Lawrence Edwards provide depth at the tackle spots. Lawrence Edwards should take over for Tommy Boynton. Early enrollee Jawaski Webb is in camp, he could get time at both center and guard. Strength & conditioning coach Matt Greenhalgh has done a great job getting this unit into shape.
DL
The front 7 is the biggest question mark on defense, not in terms of who will play, but rather where everyone will play. Scot Sloan is installing his 3-4 defense. Outside a brief foray into 3-3-5 territory during the ill-fated Ashley Anders era, Georgia Southern has always run a 4-3 defense. But the 3-4 defense is gaining popularity in college football with the advent of spread offenses. The more LBs and DBs on the field, the better.
Logan Hunt and Ty Phillips are locks at DE and NG. The other DE spot is more up for grabs. Deshon Cooper, Traver Vliem, and Raymond Johnson are all in play at that spot. Ian Bush and Quan Griffin have slimmed down and have drawn rave reviews in practice. They along with Demetrice Lofton and Zack Copeland will provide depth.
LB
The two starting ILB spots are locked down with Tomarcio Reese and Todd Bradley. Rashad Byrd will take over the strongside while the weakside or "Dog" spot will probably end up going to Raymond Johnson III. RJ3 speed rushing off the edge is an exciting prospect. Randy Wade has been vying for time at that spot as well. Chris Harris, Lane Ecton, Benz Josue, and Alvin Ward will all be factors at LB.
Secondary
The strongest unit on the team is the secondary. It's led by corners Monquavion Brinson and Kindle Vildor, both in the running for all-conference honors. The safety spots aren't bad either, Joshua Moon, RJ Murray, Jay Bowdry, and Sean Freeman are four solid and experienced safeties. Moon and Murray are projected as the starters but Bowdry and Freeman should get plenty of playing time. Jessie Liptrot has been moved from CB to S, he and Darrell Baker will probably be the nickelbacks. A crop of talented freshmen will be arriving in the fall led by Brandon Cross and Justin Birdsong to solidify and already impressive group.
Specialists
Punter Matt Flynn is gone and there's a battle between August Bowers and Magill Bauerle for the job. Tyler Bass remains the placekicker. Bass had a solid year last season (15-19, long 48). With Myles Campbell graduating, the return spots are up for grabs. John Wesley Kennedy, Monteo Garrett, and Dexter Carter will compete for time there.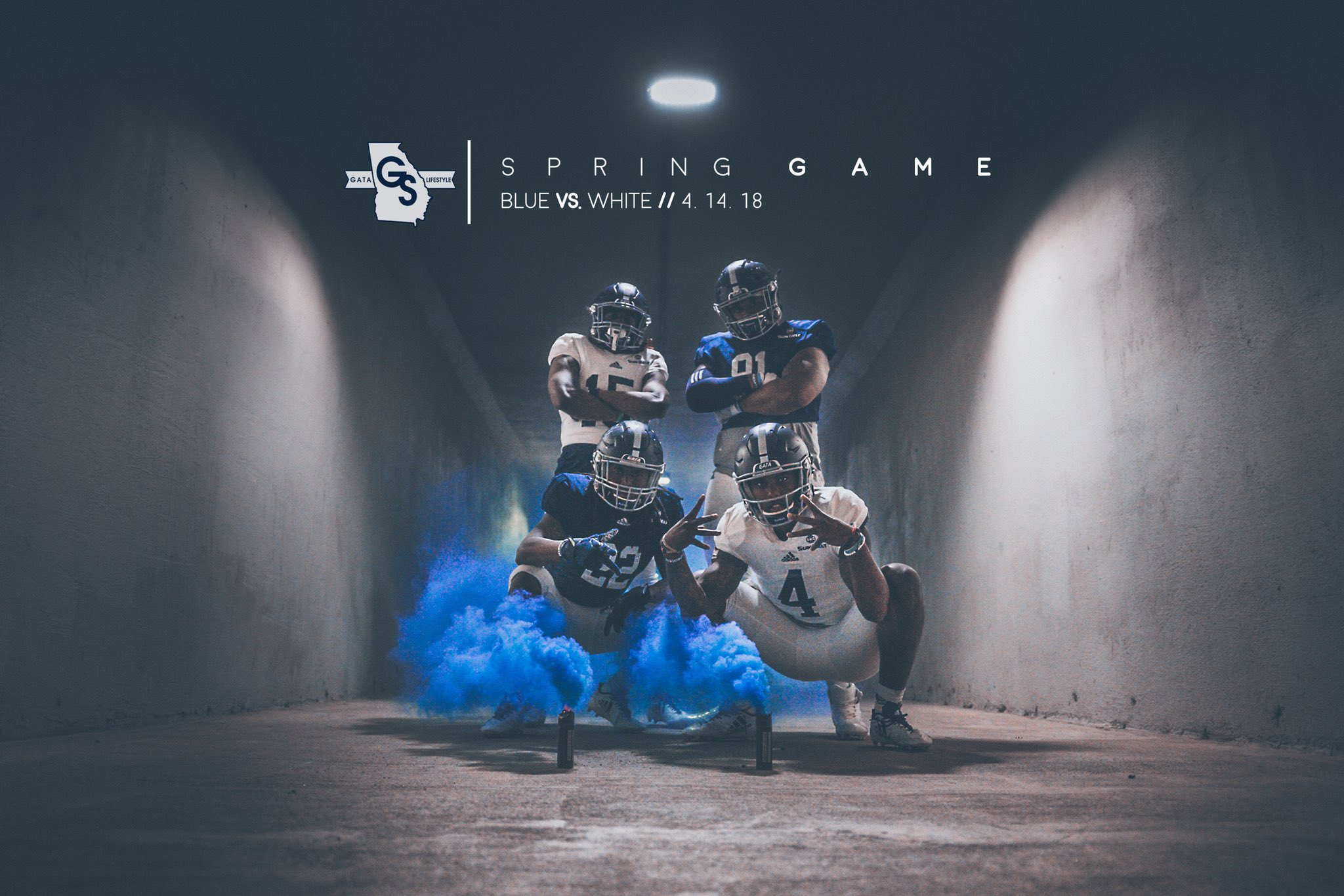 Georgia Southern Athletics released the 2018 Coaches Caravan schedule that includes a new stop in Nashville. I will see some of y'all at the Atlanta stop. I will also be at the Blue/White game this Saturday to cover the scrimmage for Forgotten5.com. Hope to see y'all there!