With the NFL Draft coming up in just two days, the main topic for any draft-obsessed fan is identifying the best players in this draft. Although many come from the top Power 5 schools, there is likewise an abundance of pro-ready players emerging from the Group of 5 schools. Let's take a look at the top ten players coming from the "Forgotten Five".
Honorable Mentions: Andrew Wingard, S; Wyoming, Maxx Crosby, DE; Eastern Michigan, Brett Rypien, QB; Boise State, Sean Bunting, CB; Central Michigan, Kahale Warring, TE; San Diego State, Devin Singletary, HB; FAU
10. Tyree Jackson, QB; Buffalo
Image via WKBW
Former University of Buffalo quarterback Tyree Jackson was another standout from this year's Senior Bowl. Standing at 6'7″, Jackson has the ability to create plays with his arm and his feet, which is unusual for a player his size. His biggest red flag, however, was reflected in his statistics from his last nine games his senior year: he threw an embarrassingly low 12 touchdowns compared to 9 interceptions. That said, based on his size and his sheer athletic ability, Jackson has the potential to shock many doubters during his career as an NFL quarterback.
Projected Rounds: 3-5
9. Oshane Ximines, DE; Old Dominion
Image via Jason Hirschfeld
Old Dominion's sack leader and freakish edge rusher Oshane Ximines started out as a possible first-round pick. He is a very intuitive player who is quick with his hands and is very elusive. However, his draft stock fell due to his sheer lack of athleticism. Despite that, he still put up high numbers, as he has totaled 20.5 sacks in just two seasons. Ximines will provide a solid pass rush to whichever team he gets drafted and could end up as a well-regarded starter in the league.
Projected Rounds: 2-3
8. Tytus Howard, OT; Alabama State
Image Via USA Today
Perhaps one of the more intriguing prospects in this year's draft is Alabama State's offensive tackle Tytus Howard. Howard originally came to the Hornets as a tight end, then transitioned to left tackle where he became one of the best linemen in the nation. He was the only Hornet selected to the first-team All-SWAC this season. Howard raised his stock further at the Senior Bowl and later at the NFL Combine, leading to almost every team in the NFL attending his pro day. In a class full of top offensive tackle prospects, Howard has a good chance of being one of the best.
Projected Rounds: 2-3
7. Khalen Saunders, DT; Western Illinois
Image via Chargers Wire
After a strong Senior Bowl outing and a viral Youtube video, former Western Illinois defensive tackle Khalen Saunders is one of the most underrated prospects in this entire class. Listed at 6'0′ and 324 lbs, Saunders is a quick and very athletic defensive tackle who best fits in a 4-3 defense. With the help of NFL coaching, Saunders has a chance to become an NFL starter on any team that drafts him.
Projected Rounds: 2
6. Rock Ya-Sin, CB; Temple
Image via Zamani Feelings / Temple Athletics
After transferring from FBS-turned-D2 Presbyterian University, Rock Ya-Sin became one of the top cornerbacks in the nation. Standing at 6'2″, his size and physique help him keep up in one-on-one battles with most receivers. Like Tytus Howard, Ya-Sin was another name on most scouts' radars after his performance in the Senior Bowl and at the combine.
Projected Rounds: Late 1 – 2
5. Andy Isabella, WR; UMASS
Image via Todd Kirkland – Sportswire/Getty Images
Andy Isabella was one of the top receivers in the nation last year, earning an overall grade of 93.2 from Pro Football Focus. Despite his small size, Isabella was able to put up big-time numbers with the Minutemen this year and was one of the most reliable deep-threat receivers in all of the nation. Isabella truly impressed a lot of scouts at the Combine, proving his true speed as he ran a blazing 4.31 40-yard dash. Many have argued for Isabella to be taken as early as the first round. However, with the amount of talent this year at the receiver position, he will more likely have to wait until early in the second round.
Projected Rounds: Late 1 – 2
4. Darrell Henderson, HB; Memphis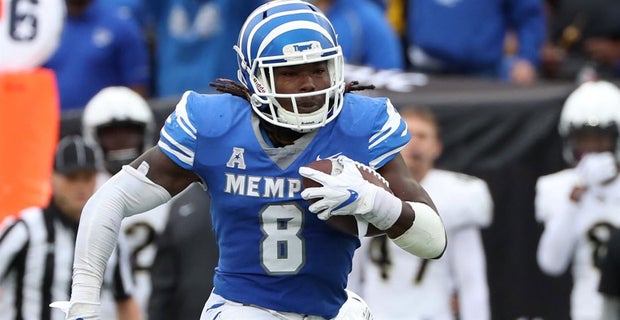 Image via Joe Murphy / Getty Images
Former Memphis running back Darrell Henderson has soared up scout's draft boards after a very successful final season. His absurd junior season had him averaging 8.4 yards per attempt. Calling him a workhorse is an understatement because this man simply does not stop moving. He quick, speedy, agile, and very physical; especially at his below-average size of 5'8", 208 lbs. Although he is credited for having an engine that never stops, it also hurts him as he sometimes is impatient when making smart decisions. Nonetheless, Henderson will develop into a great running back whomever he gets drafted to.
Round Projection: 1-2
3. Jaylon Ferguson, DE; Louisiana Tech
Image via Tom Morris / La. Tech Athletics
Jaylon Ferguson (a.k.a. @sack__daddy_ on Instagram and Twitter) is one of the most explosive players in this year's draft. Ferguson stands at 6'5″, weighs 271 lbs, and has 34 1/2″ arms; all great attributes to be a solid edge rusher in the NFL. Ferguson is also the FBS record-holder for sacks, putting up 45 in four seasons. Ferguson was disinvited from the NFL Combine after an incident which occurred his freshman year, but many scouts were at his pro day and liked what they saw.
Projected Rounds: 1 – 2
2. Nasir Adderley, S; Delaware
Image via Mark Campbell / Delaware Athletics
Nasir Adderley is another name that turned heads at this year's Senior Bowl. Adderley has three above-average years at the University of Delaware and is likely to continue that trend as a player in the pros. His versatility at both corner and safety will help him find success wherever he lands. Although he did not work out at the NFL Combine, Adderley impressed scouts at his pro day.
Projected Rounds: 1 – 2
1. Ed Oliver, DT; Houston
Image via Tommy Gilligan / USA TODAY Sports
This is a no brainer: Ed Oliver is one of the top players in this class, let alone out of GO5 players. He was a wrecking force in each of his three seasons at the University of Houston and was in talks to be the number one pick as soon as he declared. His draft stock has fallen slightly due to character issues, but there is little doubt he will be a top-10 pick. Oliver has a special gift that only a few are blessed with, and that gift is pure talent mixed with raw toughness and strength. Wherever he goes, he is sure to make his presence felt.
Projected Rounds: Top 15 Pick