The MAC football season is only three weeks away. Fall camps are underway and the players are on campus. Just like spring training in baseball, the fall is full of promise and excitement. It's still a bummer that you can't say everyone has a chance to win a championship but that's not what this is about.
One of my favorite ways to fill Sunday through Friday is looking at who is playing exceptionally. Knowing that Nathan Rourke can score on any play gives me a reason to watch Ohio football. I would anyway but now there's some sizzle.
All of these guys in here brought it last year. I have no idea how any will translate to the NFL but that's not what I'm worried about. Saturdays, until MACtion season and then weeknights, will be dominated by the players listed below.
Nathan Rourke
Quarterback – Ohio
Nathan Rourke is a true dual threat quarterback. In 2018 he passed for 2,431 yards and rushed for 860 yards. He finished 8th among all players in the MAC for rushing yards.
Just like every MAC team, the Bobcats run out of shotgun and a ton of read option plays. They realize they have a weapon at quarterback and they will make you respect that. He broke off a huge 70 yard run against Virginia last season.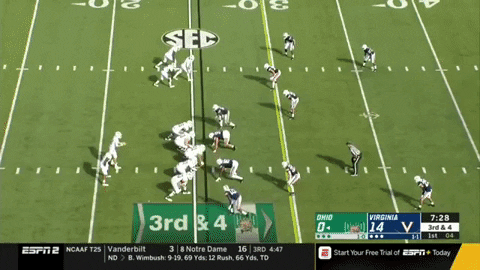 He can also throw a receiver open.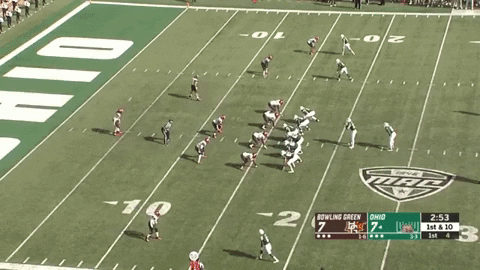 The offense around him might take a little bit of a step backwards with some of the skill positions that graduated last year. Both running backs, AJ Ouellette and Maleek Irons, are both gone. They were first and third respectively in MAC rushing leaders. Papi White was his top target and he also graduated.
Even with all of those players missing, I expect Rourke to have a great season. He was a staple last season in my Players of the Week articles last season. I'm usually not one to have a take, but if Nathan Rourke can avoid injury he will win the MAC Offensive Player of the Year Award.
LeVante Bellamy
Running Back – Western Michigan
LeVante Bellamy is fast. During summer work outs, he ran a laser timed 4.28 40 yard dash. If he can get a lane to the open field, he doesn't get caught.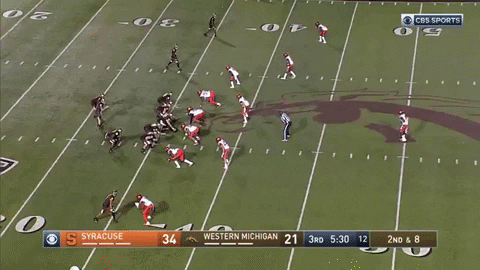 Notice how the safety, the last guy available to make a tackle, takes a terrible angle to the play. Probably didn't think Bellamy was going to get to him as fast as he did.
Western Michigan is definitely a run first offense, and he stands to benefit. WMU will split carries for sure, but both of the other backs that saw significant touches last year have left the program. Jamauri Bogan graduated and freshman Chase Brown transferred.
He ran for 1,228 yards and 6 touchdowns last year. He was the lightning in the thunder and lightning duo and didn't get the bulk of the goal line carries. I expect more touchdowns this season.
Antonio Jones-Davis
Linebacker – Northern Illinois
Antonio Jones-Davis has the most tackles for loss of any returning player in the MAC. He amassed 12 solo and 5 assisted tackles for loss in 2018, and he was a part of 130 total tackles. Jones-Davis knows how to get where the ball is going.
He plays for new head coach Thomas Hammock. Coach Hammock would be making a mistake if they tried to use him in any other way than Jones-Davis was used last season. Here he is mauling a quarterback last year:
All that said, they might need to change. They are adjusting to life without Sutton Smith, and I'm guessing that offenses will keep track of where Jones-Davis is now. As they should.
Alvin Davis Jr.
Safety – Akron
Alvin Davis Jr has a way of finding the ball. In one of the weirdest September games, Akron beat Northwestern on the back of two pick sixes by Davis.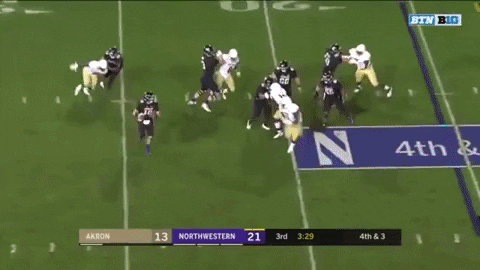 This is Big Ten West Division Champion Northwestern that the Zips beat. Akron would go 2-8 the rest of the season and fire Terry Bowden. The other interception was only a fifty yard return that sealed the game late.
Alvin Davis Jr was also in on 75 total tackles over 11 games that he appeared in and broke up 3 more passes. He lead the MAC with four interceptions. That's a great year for a defensive back.
The Akron defense was the strength of the 2018 team, but still have plenty of room to improve. The Zips, under the leadership of first year of Tom Arth, can build around Alvin Davis Jr for this year. They're going to have to.
Riley Miller
Wide Receiver – Ball State
Riley Miller returns the most yards per game of any receiver in the MAC. He scored a touchdown in the last 6 consecutive games of the season. Six of 26 catches in those games went to the house. This is the only other touchdown not in the streak.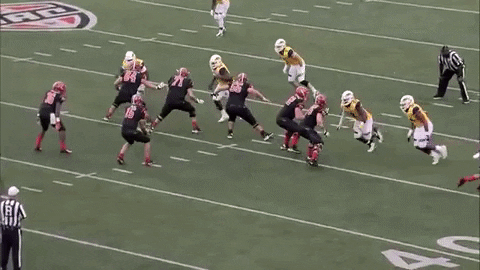 Down the stretch, he was the best target for back up quarterback Drew Plitt. Prior to his injury, Riley Neal connected with Miller 11 times for 208 yards and the touchdown above against Kent State.
Miller needs to be a force on the offense. Experienced quarterback Neal transferred to Vanderbilt and starting running back James Gilbert transferred to Kansas State. Riley Miller needs to be the number one receiver on the Cardinals and be able to make a catch when they need him.
Jamal Hudson
Corner Back – Ohio
Jamal Hudson is a top tier corner in the MAC. He's good for a pass deflection a game. That doesn't seem like a lot, but that's good for 17th in the nation.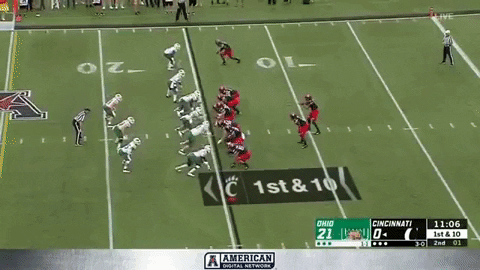 A former two star Air Force commit shows that you shouldn't always believe that the recruiting analysts are perfect. Jamal Hudson was an outstanding corner in the MAC in 2018 as a true sophomore.
I tend to wonder if great corners have limited opportunities to accumulate stats since and offense can put the primary route or receiver somewhere else on the field. Even if a team goes away from Hudson as often as possible, it's still undeniable he will affect the game.
He also returns the fourth most tackles on the defense. Without watching all of the film, my guess is that he is a sure tackler when he does allow a completion.
Brody Hoying
Safety – Eastern Michigan
My favorite kind of defensive back is the aggressive guy that plays in the offensive backfield. That is Brody Hoying. He lead the MAC defensive backs with 11 tackles for loss in 2018.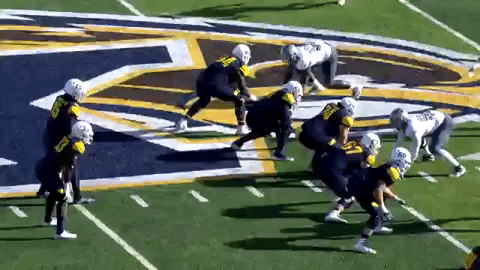 He had a hand in 69 total tackles with two sacks. His 11 tackles for loss resulted in 31 lost yards. He was very aggressive in stopping the run and wide receiver screens.
According to 247 Sports he had a total of 1 offer out of high school. Hoying has certainly made the most out of it. He's listed as a DOG position on Eastern Michigan's bio for him which is fantastic. Hoying has been a contributor every year, with his sophomore season being potentially better than last season.
Offenses will need to know where he is and where the safety blitz could be coming from in 2019.
Bryant Koback
Running Back – Toledo
Bryant Koback is the best offensive weapon returning to the Rocket offense in 2019. The Toledo Rockets got one wide receiver drafted in the 2019 NFL Draft and the two seniors both ended up signing with NFL teams.
Koback is not the best returning weapon by default however. He averaged 7.2 yards per carry in the final five games of the regular season. He's a slippery runner that's effective running inside or outside.
He originally signed with Kentucky after having a leg injury his senior year in high school. After not playing his freshman year at Kentucky he transferred to Toledo and rushed for 917 yards and 14 touchdowns.
Especially early in the year the Rockets will lean on Koback while the passing game finds it's rhythm. The Rockets split time at quarterback last season. Even if they get a starter figured out, all the main receivers are new as well. Koback is set up to have a really strong sophomore season as the main back in Toledo.
Honorable Mentions
There are obviously tons of players that will have a large impact on the MAC season this year. Far too many to mention. Plenty will be a surprise. That being said a couple quarterbacks are set to have strong seasons. Jon Wassink of Western Michigan has been great when he's healthy. Mike Glass III is electric for Eastern Michigan. Mitchell Guadagni was the most efficient passer in the MAC last year.
Tre Harbison for Northern Illinois and Andrew Clair of Bowling Green are in place to be feature backs for their respective teams. Jack Sorenson of Miami is a strong receiver and will be the top target in Oxford.
Ali Fayad for WMU and Doug Costin for Miami will be forces on their defensive lines. John Lako steps into the role left by Ulysees Gilbert III in the Akron linebacker corp.  James Patterson had a very strong freshman and will lead the defense this year in Buffalo.
Kevin McGill of Eastern Michigan had 3 interceptions and 6 deflections in the secondary.