So far we've taken a look at the attendance numbers that suggest that college football attendance is not a crisis in need of solving. At the same time, we also acknowledged that there are some clear downsides that make the gameday experience less deserving of the working man's dollar.
In order to bring this idea home, it's necessary to not just point out what the teams should stop doing, but what they should consider starting instead.
Global research firm Deloitte did a multi-faceted study back in 2018 looking at the present and future of sports when it comes to the fan's stadium experience, keeping those fans engaged year-round both in and out of the stadium, and what the future of both sports media and sports stadiums could look like as the technological landscape changes and the ways that franchises and their loyal fans interact with each other continues to do the same.
There's a lot of really great information in those links, so I encourage you to cruise through the whole lot when you have a chance. Of note, though, is their study on the stadium experience, what parts of it matter most to fans, and what parts of it are meeting fans' expectations the best.
The first thing they found is that you can split the items that make up a fan's gameday experience into four categories. The Core Four, Basics, Playing Field, and Differentiators. You can also split fans into casual and fanatic.
Across the board, fanatics had the same stratification of those four categories than were casual fans but were more satisfied across the board. They also placed much heavier importance on playing field than basics, with the opposite being true for casual fans.
This matters to an extent because you have to achieve balance. You don't want to alienate or not put effort into your casual fans, because they make up the bulk of your crowd. You also don't want to do the same to your fanatics, because this same research showed that they attend more often and spend a lot more money than the casual folks.
The Core Four
The core four got that name because they were the line items that were given the greatest importance by fans by a substantial margin. Those four items are whether the stadium was safe, comfortable and clean, whether the view from their seats meets their expectation, whether the game is high quality, and whether there is an exciting atmosphere within the stadium.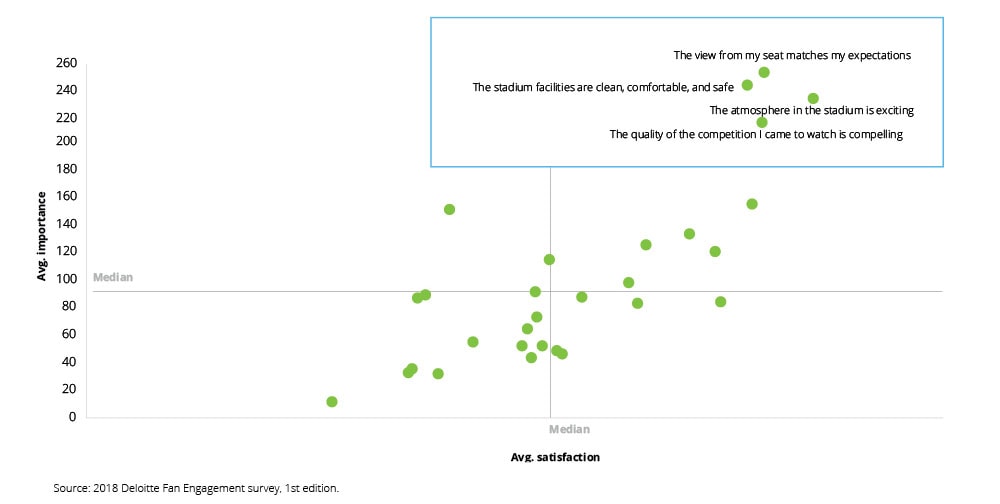 Of note, whether the game itself was high-quality was last among these four, but the importance of these metrics makes sense. Are there many things less enticing than a stadium that doesn't feel safe, has bad seats and sightlines, and which have little to no atmosphere, whether the game itself is good or not?
In this area, all fans were most happy with the stadium atmosphere, so pro sports are doing things right. Accordingly, this would suggest that college teams will benefit from investments in methods of generating a gameday atmosphere that is as interesting as possible to as many people as possible so that the success or failure of the on-field product is less critical to their bottom line.
The Basics
When it comes to the basics, to me this contains a big weak spot. To summarize, this category really only consists of two items: is the stadium easy to enter, exit and navigate, and do the concessions provide both basic options and fair value.
That last one was the area where fans were least satisfied and also the basic aspect most important to fanatics. Concessions were the least important basic for casual fans, but concession quality was still comfortably the area of least satisfaction.
This suggests there's still much room for improvement. Most teams seem to aim at this target either by dropping concession prices on the basics or by offering a higher number of fancy (and fancy-priced) options. Both could be of value, but I personally am a fan of the former.
The Playing Field
The next category, Playing Field, can essentially be boiled down to more granular entertainment value. Do fans identify with the team they've come to watch, and are there entertainment opportunities – before, during or after the game, inside or outside the stadium – that are of interest to the fans.
On the bright side, the two most important aspects for both fanatics and casuals were whether they identified with the team they came to see and whether they could have experiences that were unique to the stadium they attended. These were also the playing field items they were most satisfied with.
Notably in this category, "attractive in-event opportunities for activities that match my interests" is top-five for both categories of fans but comfortably dead-last in satisfaction for both.
I would see this as an opportunity to diversify your in-game entertainment using technology, a chance to go beyond "that one race with some mascots" or "that fake transportation race on the JumboTron" or similar items.
Differentiators
This is essentially the technology category.
Realistically, what fans are talking about is a more personalized and engaging experience. Maybe it's one that they have the ability to customize themselves, or that the stadium staff and technology customizes for them.
Both groups are most caring about in-event highlights and stats, and are most satisfied with this relative to other similar attributes but not really blown away by it.
Okay, so now what?
Let's bring this all back together, starting from square one.
College football has seen a decline in attendance in recent years, but it's still comfortably within the range of its all-time high less than a decade ago and still comfortably better off than it was 15-20 years ago. It is also no worse for wear than the NFL or any other major professional league.
College programs are also making significantly more revenue from media rights than they have in the past, which can offset decreased attendance to some extent, but seem to be investing those revenues in fancier luxury boxes where wealthy donors can pseudo-tailgate rather than putting that funding towards the vast majority of regular folks.
Casual fans care the most about a clean and safe stadium that is easy to get into, out of and around, which gives them a good view of a great match within a great atmosphere.
They also care about having a variety of entertainment options before, during or after the game, both inside and outside the stadium. which feel like an integral part of the gameday experience and not just things that happen to be there.
Fanatics want a lot of the same things, with a little more weight given to things like unique and properly priced concessions or event-specific merchandice, but everyone has the same opportunity to make a massive leap in how much people like attending stadiums and how willing they are to make repeat trips, whether it's a diehard or a first-timer.
First, the idea of bringing the tailgating experience inside of the stadium where possible could be a big boon. Multiple areas that are inside stadium property but perhaps immediately adjacent to the physical stadium itself, which are either available to set up tailgates or where some of those amenities are provided, would be a win.
An area that is already fairly open, but which is covered (not enclosed, just a nice sturdy tarping mechanism), has furniture available, has a smattering of televisions and easy access to a broad variety of cheaply-priced basic concessions and more expensive (but not exorbitant) premium concessions.
This allows folks to very nearly simulate their tailgate experience, or even bring their own, decreasing the need or desire to do it outside the stadium and away from its cash registers. It also allows fans to do all this without them or the stadium staff having to deal with the fiasco that re-entry can create.
Second, you're looking at an opportunity where schools can establish or upgrade their broadband capabilities. In turn, this will allow casual fans to either more frequently entertain themselves through whatever avenues they already do on their smartphones, or be exposed to new opportunities to engage with the team and stadium via event-and-location-exclusive content, giveaways, games and so on.
This is a plan that just flat-out makes sense. Whether or not schools choose to steer their resources in this direction is up to them, but this would seem to be a path where they can stem a lot of the changing tides and use their audience's tendencies in their favor rather than trying to pretend that they don't exist.