First off, ain't the 2017 poster a beaut?? …..
But I digress. The 2017 season is literally weeks away from kicking off and it's about time the Ramblin' Arkansan not only makes his debut on F5 but to do my yearly analysis of the Red Wolves schedule—but not just any plain jane analysis. No folks, I like to put a little 'quirk' whenever I do said articles, adding a mix of fun facts and commentary. SO, without further adieu…
GAME 1: @NEBRASKA 
Do you know who that stud is right there? That's right…me baby. Rocking the goatee, looking all swag because I had just turned 21 years old a few days prior to our trip to Lincoln for the first ever meeting between the Cornhuskers and the Red Wolves in September of 2009. Guys and gals lemme say that while I certainly was aware of the vastly different levels of college football compared to Arkansas State and Nebraska, seeing was TRULY believing…
Memorial Stadium is an absolute treasure and any rabid college football fan must experience the Sea of Red on gameday…
The Cornhusker Film Crew Staff were very kind to show us Astate Film guys around the stadium, even showcasing their past championship trophies…
Another memorable aspect of this game in particular was at the time Ndamukong Suh was 'THE GUY' back in 2009 and I personally witnessed from field level him completely poning our entire O-Line and making Corey Leonard (then Junior QB) his particular unfriendly derogatory word that doesn't need to be stated here.
Needless to say, Arkansas State was decimated that nice warm September day in Lincoln, 38-9 but this trip will always be a very memorable one for me. I must admit after the wonderful hospitality shown both from fans at Gameday and the very nice individuals that bought round after round of birthday shots for this young man in downtown Lincoln, I always find myself rooting for the Cornhuskers whenever they come across the ole television screen. Now, will third time be the charm for the Red Wolves come September 2nd against Nebraska? Eh…not sure. As much talk has been made about this season being a rebuilding year for the 'Huskers, we ALLLLLL know about the struggles Arkansas State has in Out of Conference play (which we'll discuss in more detail momentarily). While dominating UCF in the Cure Bowl certainly reminded me that it's always possible to get that rare non conference victory, I wouldn't be disappointed nor shocked if we see a 42-27 type score in a few weeks.
GAME #2: Miami 
Boy, oh boy. Kind of hard to believe it's been nearly three years ago already since BA and company whipped this doozy of a play out. Now any hardcore Red Wolves fan will tell you we've seen our fair share of trick plays even before Blake came into town as head coach. Who could forget the loveable "Hide the Midget" play from the 2014 GoDaddy Bowl???
(SUPER DUPER IMPORTANT NOTE: This play was never ACTUALLY dubbed this by any Arkansas State coach, player or official and was eloquently named by the broadcaster on the fly). Hell, while we're on the subject my personal favorite trick play I've seen the Red Wolves execute came in the Malzahn era back in 2012, during a critical Thursday showdown with the Warhawks(at the 4:28 mark)…
AHHHHHHHHHHH….GLORIOUS. BUT ALAS, I digress…
Nothing will probably ever top the infamous Fainting Goat play, and while I'm all for the occasional tricks and schemes, I'm not sure if the Miami FREAKIN Hurricanes was necessarily the right opponent to try that little doozy of a play on. While the '14 game wasn't necessarily an ugly one (still a 41-20 lost), IF the Red Wolves were ever going to have a remote chance at knocking off 'THE U', it was probably this particular squad led by then head coach Al Golden, who would finish the '14 season with a losing record of 6-7. With the exception of 2012, Golden's time at Miami was a rather dud, dealing with multiple NCAA violations and infractions, only two bowl appearances in his five seasons (both losing efforts in the Russell Athletic and Independence Bowls), and was canned after the game seven shellacking they endured at the hands of Clemson.
Holy $H*T…THAT'S MARK RICHT…..
After Georgia stupidly canned him at the end of the 2015 season, Miami immediately scooped him up and come September 9th, will be more than likely the highest ranked opponent to ever play in Jonesboro.
Does Astate have a chance to defeat the 'U' at home?
HOOOOOOOOOOOOOWWWWWLLLLLLL PROBABLY NO.
Am I still super excited to see this game go down?
HOOOOOOOOOOOWWWWWWLLLLL FREAKIN' YES!!!!!!!!!!!
By my count, this will only be the third Power five program to play in Jonesboro (Louisville and TCU were still technically playing at mid major levels at the time so I don't count them) and barring something crazy like the Razorbacks coming to Jonesboro someday, I can't imagine a bigger name opponent than the MIAMI HURRICANES ever stepping foot into Centennial Bank Stadium again. NO WAY I'M MISSING THIS.
GAME #3: Arkansas-Pine Bluff
I'm excited for this one I must say. Will it be a close game? Nope, not at all. In fact it will probably be all but over by half time. However, for those unaware, the state of Arkansas only has four total Division I Football playing programs: University of Arkansas and Astate being the only FBS squads, while the other two (University of Central Arkansas and University of Arkansas at Pine Bluff compete in the FCS level). The Hogs have long maintained a zero compete policy against ANY in state program in any sport and totally awesome Red Wolves' AD Terry Mohajir has made it a personal sticking point to show what a stupid bylaw this is by scheduling both UCA and UAPB in football competition. Now before we continue, let me just state the obvious…
YES, UCA BEAT ASU LAST YEAR. IT SUCKED BUT WE'RE TOTALLY COOL.
And that's kind of Terry's big point: we're not afraid to play other instate schools and we lost and guess what? We still ended up sharing our conference title and beating UCF in a bowl game. The Deathstar didn't annihilate the campus, the fans didn't burn the indoor facility down…the program kept chugging right along, and many (including myself) say if it weren't for the UCA wake up call, the 2016 season would've probably been an absolute dud for the Red Wolves. Now, with all that being said…
There's NO WAY Arkansas State loses to the Golden Lions. Even though both are at the FCS level, the Bears have far superior talent and coaching over UAPB, and it further shows when you also consider the fact that since their last successful season (winning the SWAC title in 2012) the Golden Lions have gone 9-35.
It'll still be a packed house in Jonesboro, the "Marching Musical Machine of the Mid-South (M4 for short) will put on a spectacular halftime show and the Red Wolves will get the easy 'W'.
So last week of September, the Pack travels down to Dallas for the first of a home and home series against the Ponies. Since these two squads last concluded their previous H-A-H deal back in 2006-7 seasons, both programs have REALLY, REALLY come far and have turned themselves into much more competitive, respectable programs.
On one side, you've got Chad Morris who resisted the temptation and LOTS of cash being waved in his face to stay with SMU and now in year three, is seemingly primed to take his Mustangs to the next level by hitting that six (maybe more??) win mark.
On the other side, BA has been struck by the bug that all Astate coaches have seemingly been dogged by, which is struggling to win nonconference games in the regular season. Don't believe me? Take a look….
Steve Roberts (2002-2010: Total Regular Season OOC Record: 13-30)
Hugh Freeze (2011): Total Regular Season OOC Record: 2-2)
Gus Malzahn(2012): Total Regular Season OOC Record: 2-2)
Bryan Harsin (2013): Total Regular Season OOC Record: 2-3)
Blake Anderson(2014-Present) Total Regular Season OOC Record: 3-9)
What's rather startling is not only has BA regressed in his three seasons at Jonesboro so far (winning two in 2014, just one in 2015 and ZERO last season), but it's also taken him THREE SEASONS to surpass his predecessor's results. If you ask me, this will be a critical point for both coaches and while I won't call it a 'Make or Break Game' for Arkansas State (god I hope we're not 0-4 again) it would be certainly nice to see Arkansas State rise up to the same level they played at the last time they faced off against SMU's fellow member in the American, UCF, and get this desperately needed non conference victory.
GAME #5: @Georgia Southern
So let's get real for second…
By this point, I figure at best Astate will be 2-2 or more than likely 1-3, heading into the buzzsaw that will be Statesboro for a weeknight national showdown with a probably very vengeful minded Eagles.
I think it's safe to say we all know how this one went down, so no need to recap but I think it's critical to point had the Red Wolves not rallied and pulled the last second touchdown victory out in Jonesboro, 2016 would've more than likely been the first losing season for the Program since 2010. On that flip side, Southern was demoralized, going on to lose the next five of six games before salvaging Senior Day with an awesome last second victory over Troy. Now a year later, my "Jake" sense tells me once again this weeknight game will be a very pivotal moment for both teams. And it's going to be a TALL challenge for Arkansas State. Why you should be asking? Well I'll forcefully tell you why…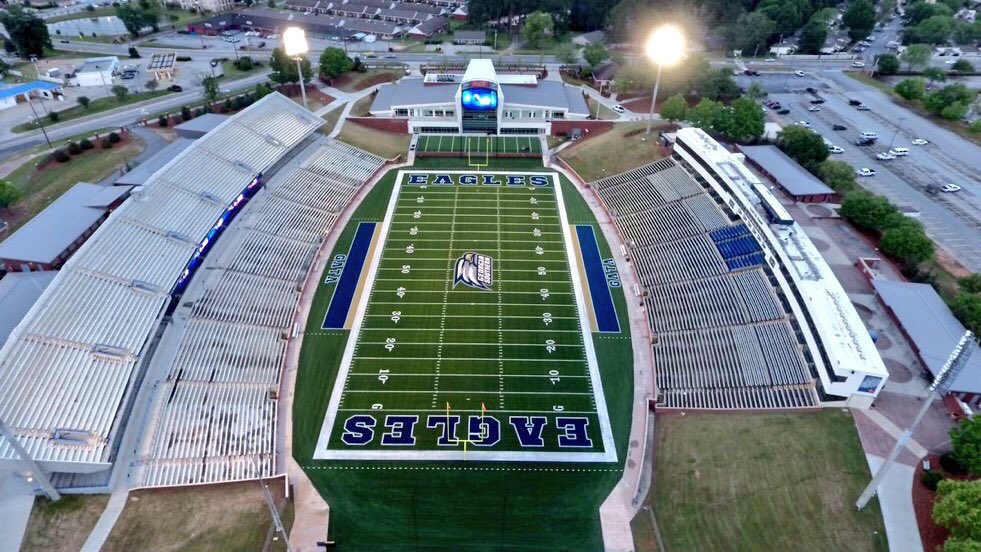 This is Paulson Stadium (say hi). Home of the Georgia Southern Eagles. 20,000+ pack the stands week in and out and watch as their beloved football team rub the bald headed statue of legendary head coach Erk Russell (which I hypothesize delivers super human powers to whom ever rubs it).
How else have the Eagles been able to go an astonishing 70-24 at home since 2002, boasting a winning percentage of nearly 80%? If Arkansas State is going to hand Southern just their sixth lost at home since 2011, it's going to take quite a bit of solid play on both sides of the ball and maybe a dash of luck (like the Eagles still struggling to re-establish the option maybe??)
GAME #6: Coastal Carolina (Homecoming!)
To conclude part one of my ramblin' article on the Red Wolves' season, we have the young bloods Coastal Carolina coming to town for Astate's homecoming game. While it's certainly tempting to talk about how dominate the Red Wolves have been during homecoming, winning 12 out of the last 13, but no we need to address what I feel is a subject that has shockingly not been addressed enough.
Chauncey the Chanticleer.
Am I the only one that recognizes the long, proud lineage CTC hails from??
Now, I can't begin to tell you what in the hell this story is all about, probably because I can't read 'Olde English,' other than there's a bunch of random people on a pilgrimage and they tell stories that don't make sense either. However, what I do remember from this tale is CHANTICLEER…
What does he do? NO IDEA! But from all accounts he's the prettiest damn rooster during the entire Medieval era.
Fast forward to the 90s and we have perhaps the most well known Chanticleer of the Millennial era…"
Rock-a-Doodle was more than just an animated movie from the early 90s…it was the voice of a generation. A defining film that still teaches us that even if you anger an owl with magic powers, really scary nightmares can be solved with medicine and professional counseling.
I certainly welcome the 'Chants into the league this upcoming season and look forward to both how fast they can catch on to the FBS level as well as what they will contribute to the league going forward (and hopefully won't try to scab out like Georgia State, but we'll save that for part two!).