It has finally come, Week 1 is here and Bearcat football is back. The Nipp will be as loud as ever, and it all starts with the blackout on Thursday.
IYKYK.

????????
Thursday night.
Nippert Stadium.#Bearcats ⚫️ #NippAtNight pic.twitter.com/gfvl4KzxAV

— Cincinnati Football (@GoBearcatsFB) August 27, 2019
UC welcomes in UCLA for a rematch of last years matchup in Week 1, where the Bearcats got a win in the Rose Bowl.
Game Information
Time: 7 PM EST
Location: Nippert Stadium, Cincinnati, OH
Channel: ESPN
Line: Cincinnati -2.5
FPI: Cincinnati 42.4%
Over/Under: 58
Overview of UCLA
Offense
The Bruins return QB Dorian Thompson-Robinson, who went 15/25 for 117 yards last year. WR Theo Howard is the biggest threat on the UCLA offense, but Howard had missed time recently due to a hand/wrist injury. He will be playing on Thursday.
Starting running back Joshua Kelley also missed time with a training camp injury, but will be playing, and starting for Thursday's game.
The Bruins will be starting Freshman Sean Rhyan at LT on Thursday, who didn't get to campus until June. Expect a lot of TE/RB support on the left side, Thompson-Robinson's blindside.
Head Coach Chip Kelly and the Bruins look to improve on their 24.6 points per game last year. Doesn't seem like much for a "offensive mastermind" such as Chip Kelly…
Defense
UCLA lost their leading tackler Adarius Pickett, who recorded 38 more tackles than anyone else on the roster last season.
The 3-4 defense that the Bruins run will likely feature a lot of blitzing Thursday. Expect them to pin their ears back and come after Ridder, who's blindside will be inexperienced.
Safety Stephan Baylock will step into the void left by Pickett. Baylock is the only first time starter in the UCLA secondary.
Linebackers Tyree Thompson (foot) and Bo Calvert (suspended) are both out on Thursday. Lokeni Toailoa will fill the role. The Linebacker position is thin for the Bruins.
Cincinnati
Offense
The clear worry for Cincinnati this season is the Bearcats offensive line, specifically the left side. Freshmen Lorenz Metz (LT) and Jeremy Cooper (LG) will be protecting Ridders back. Chris Ferguson (Sr. RT), Jakari Robinson (So. C), and Morgan James (Sr. RG) finish off the offensive line starters.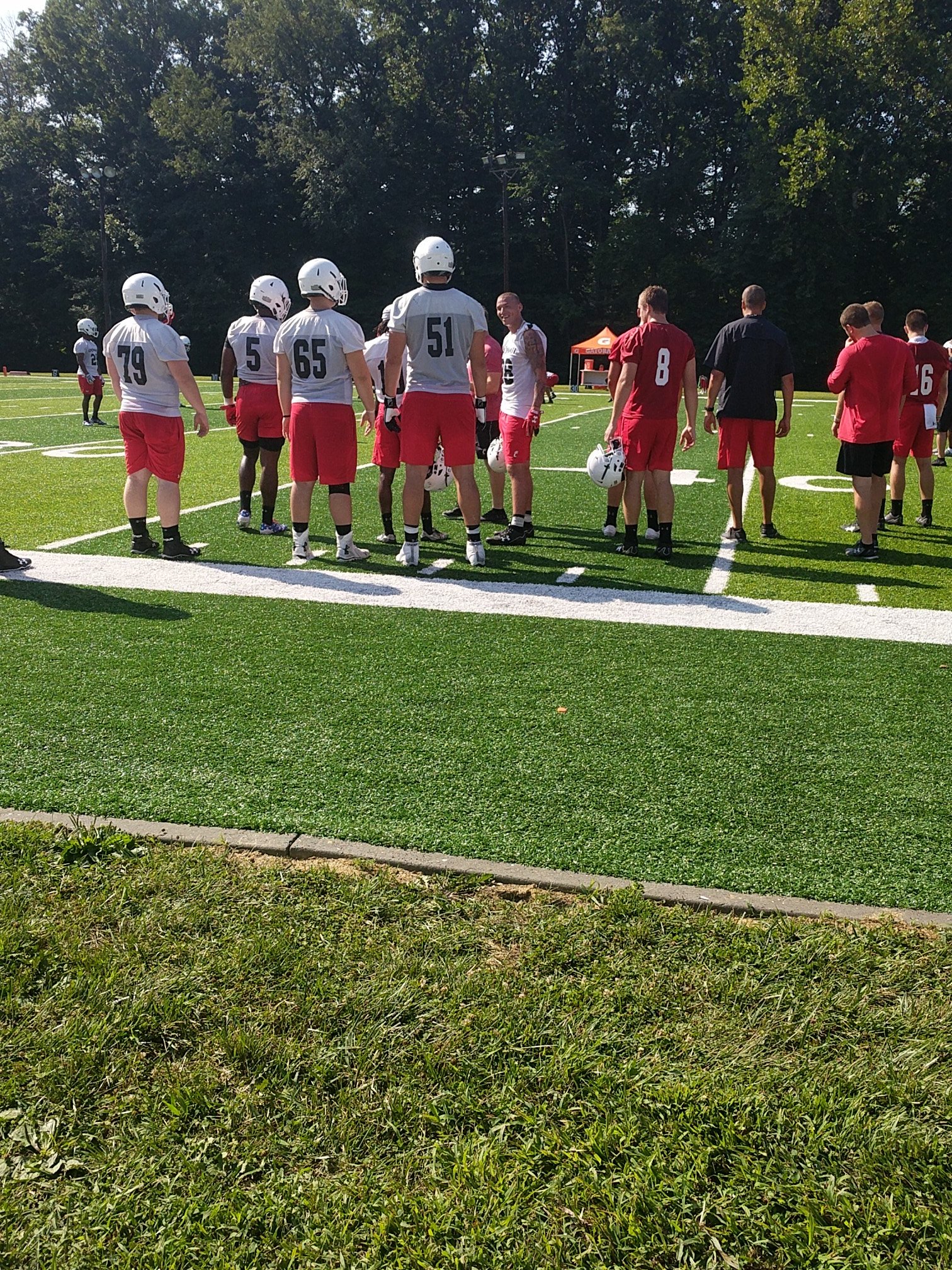 Bearcat fans should be excited to watch what Ridder and Warren will do in the backfield this year.
The WR core is looking very deep. Alec Pierce and Trent Cloud, 2 sophomores, have emerged as talented weapons, and will see the field often. It will be great to see Medaris back in action, alongside Thomas Geddis.
Josiah Deguaria will continue to be a great pass catcher at TE for his final season. Junior Bruno Labelle will back him up, and likely see the field often in 2019.
Defense
The defensive line is young, but immensely talented. Myjai Sanders (SO) and Malik Vann (SO) will get most reps at defensive end. Elijah Ponder and Curtis Brooks, two juniors, will handle the tackle position, with Jabari Taylor and Marcus Brown playing nose tackle.
Michael Pitts will start at JACK, a hybrid-type linebacker who will mostly blitz. Perry Young, Bryan Wright, and Darrian Beavers all return to start at linebackers for the 2019 season.
Coby Bryant will play corner alongside Cam Jeffries, 2 guys who dominated wide receivers in 2018. Darrick Forrest will start at safety, but the second starter is unknown as of now.
Junior safety James Wiggins has gone down with a knee injury in camp. Fickell will meet with doctors Wednesday morning, where we will then find out the severity. Wiggins will not be playing Thursday.
Kyriq McDonald, the sophomore Alabama transfer, or Ja'von Hicks will start at safety in Wiggins place. Both guys are very talented.
Quick Facts
UCLA has lost 14 of 15 away from the Rose Bowl
Cincinnati has beat 5 straight P5 opponents in Nippert Stadium
Both teams will have a Freshman starting at LT on Thursday
This is the second meeting between the 2 programs, 2018 being the only other
UCLA has a 7-9 record vs AAC teams
The Bruins did not win a non-conference game last year, UC didn't lose one
UCLA has lost 4 of their last 5, UC has won 4 of their last 5
Prediction
Thursday's matchup should feature two great sophomore QBs surrounded by solid talent. The biggest question, and potentially the deciding factor, will be the offensive lines. Which defensive line will cause more mayhem in the backfield? Who will limit their mistakes upfront? This game will ultimately be won in the trenches.
I expect Cincinnati to win the trenches again this year, and beat the Bruins to start off 1-0 once again.
Final Score: Cincinnati 31-20